Florida Country Magazine | October 2022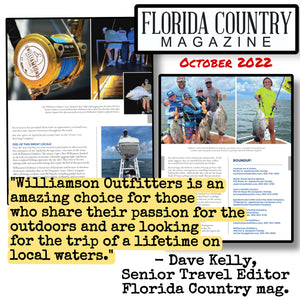 Testimonials
... "Dude we had an absolute ball most fun I've ever had duck hunting and y'all are some good ole boys to chill an hunt with. I'll be back next season" ...

Trent C.
"Awesome hunts, great food, all around amazing time with Capt. Chris & crew. See y'all next year!"

Matt M.
"Great hunts, great times, & great people! We'll be back!"

Les S.
"Great time. Shot some species never shot before."

Bill R.
"Awesome trip!!! Loved the lodge and the guides!"

Trey T.
"Epic!! Will be coming back! I did freeze my a$$ off the second day though, lol !"

Chris C.
"Williamson Outfitters, LLC did it up right again! Thank you Captain Chris Williamson Two Trophy Club entries. Tad Person with a 28" and Jon Person with a 27" What a day we had! I am still chasing the Trophy Club! Maybe next trip! Can't wait to do it all again, soon. BTW Blackened Tripletail for the win!"

Johnny G.
"Thank you again, we had a blast!"

Bennett S.
"Thanks for everything! See you in June"

Danny S.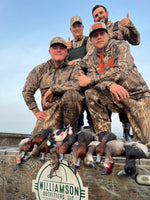 Williamson Outfitters • FLORIDA
The Williamson family has a deep-rooted passion for the North Florida outdoors. Come experience "Old Florida" with us and make memories that will last a lifetime!
Location
Williamson Outfitters, LLC
448 Ave A, Eastpoint, FL 32328
chrisw.fas@gmail.com
Call or Text: 850-251-8650
We Proudly Sponsor These Organizations: